About Kendall Ross Bean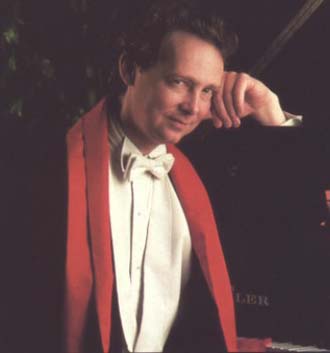 Kendall Ross Bean: Born in Oakland, California, he began playing the piano at the age of four, under the direction of his grandmother, who was at one time a pianist for the silent movies. By seven he had begun composing and by seventeen had made his first recording with a symphony orchestra. That same year he commenced undergraduate studies in music at the University of California at Berkeley, later completing his Bachelors degree in Piano Performance at Brigham Young University and his Masters Degree in Piano Performance at the University of Texas at Austin. He also won several scholarships, awards and teaching assistantships. He has continued to perform as a concert pianist and entertainer in hundreds of concerts, several national television shows and music recordings.
In addition to solo piano compositions, he has written musicals, movie soundtracks and also composed sacred songs for soloists and choral groups.
Simultaneous to his love of creating music, Kendall was fascinated with the way the piano worked. His father was a mechanical engineer by profession and carpenter and artist on the side. Kendall grew up in his father's wood shop, learning how to use woodworking tools at an early age, and learning to repair, tune and work on the pianos he played. During his student years, he learned from many master craftsmen about the art of rebuilding and refinishing pianos. Kendall has acquired over 20 years of experience as a Master Craftsman of piano rebuilding/refinishing and is a specialist in rebuilding and the touch and tone work that brings a piano to its concert potential. He continues to study and learn all he can about pianos and the people who made them, play them, compose for them, and listen to them.
Kendall is one of those rare individuals who not only can restore a vintage piano to its former glory, but can perform music on it that utilizes all its potential. As the business has grown, Kendall has developed a camaraderie with other artists and rebuilders, and often consults with, and is consulted by, pianists and technicians around the world about the finer points of piano building, repair and restoration.
Kendall's additional interests include trains, history, electronics, geography and maps, photography, writing, running, and graphics.